I am fortunate to have a lovely job (well most of the time). There are some very good bits to my job and one of them is that I get to wander off around the county and while doing that I get to see lots of places and meet people with interesting stories. I was on a bit of a fact finding mission today and ended up at the end of a pier, it was hard to describe the unreal odour that greeted us. I looked over the edge to see where it was coming from and saw many parts of fish, but very strangely the huge grinning heads of many monkfish. Weirdly enough the pictures do not adequately capture the eerie creepy look of the disembodied heads of a monkfish which I decided to photograph as the eerie photo for this months scavenger hunt. The local fishermen use fish offal for bait for the lobsterpots but clearly lobsters are not attracted by large grinning disembodied heads. I have included the view to the left of the pier for balance.
not so sure why he is grinning
The view towards ferry point waterford




I am sure I will find something eerier during the course of the month perhaps this is just too gruesome for inclusion in the final one. Looking at monkfish and other weird and wonderful things in the english market in cork was a very cheap day out for my eldest daughter when she was young, and when the Queen visited Cork last May she was just as entertained by the wonderful

Pat O' Connell in the English market

.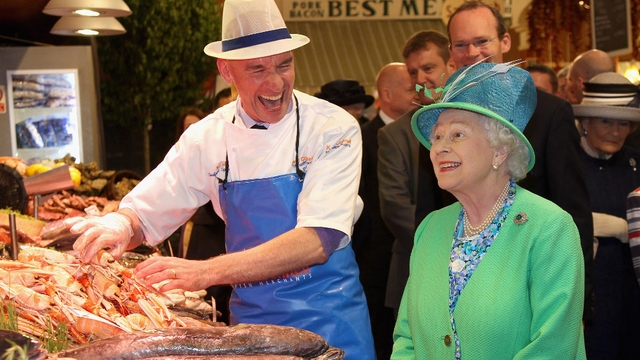 I suppose today's words of wisdom are look over the edge, you never know what you will find.